We'll miss you, brother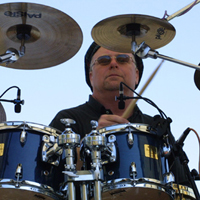 We're saddened to hear of the passing of our drummer and friend, James Preston.
Ever the acerbic curmudgeon, James' prickly exterior hid a huge heart. James has been playing with the band for many years and was a major contributor to Play It Pretty For Atlantis as well as our forthcoming album. We will miss his keen intelligence, biting wit and world-class drumming. He was an extremely versatile drummer who could play many different styles from R&B and jazz to Rock and Zydeco.
James played with many different musicians including Jon Hammond, Booker T. Jones, Dr. John and Bobby McFerrin to name but a few, and was a longstanding member of The Sons of Champlin.
Our thoughts and prayers go out to his wife and family. We'll miss you, brother.
Please give what you can to help out James' family. Donate