Steven Bates Acoustic Band
Saturday -
September
24,
2016
8:00 pm
Point Noyo
1011 S Main St, Ft. Bragg, CA
Steven Bates Band will be playing an acoustic dance show at Point Noyo Restaurant in Ft. Bragg, CA on 9-24-16 at 8:00pm.
Steven Bates acoustic guitar
Jon Faurot acoustic guitar
Johnny Bush bass
Ralph Humphrey drums
Dance, Listen and Groove to the high energy sounds of The Steven Band playing unplugged. Enjoy the complex weave of an all acoustic guitar front line with Steven Bates on vocals and guitar paired with the incomparable Jon Faurot on acoustic guitar. Backed by Johnny Bush on fretless 5 string bass and with special guest star, the legendary Ralph Humphrey on drums. Ralph was drummer for Don Ellis, Frank Zappa, Dancing With the Stars, Manhattan Transfer, The Grammys, The Academy Awards and so many more.
At Point Noyo Restaurant & Bar, The Mendocino Coast's Premiere Music Venue.  South end of Noyo Bridge. Ample parking, spectacular views, great food and full bar.
Tickets $20 at Out Of This World in Mendocino, Music Merchant in Fort Bragg or online at BrownPaperTickets.com
Reservations: 707-962-3035 or Openable.com
Preferential seating with dinner reservations.
Music info: 707-357-4667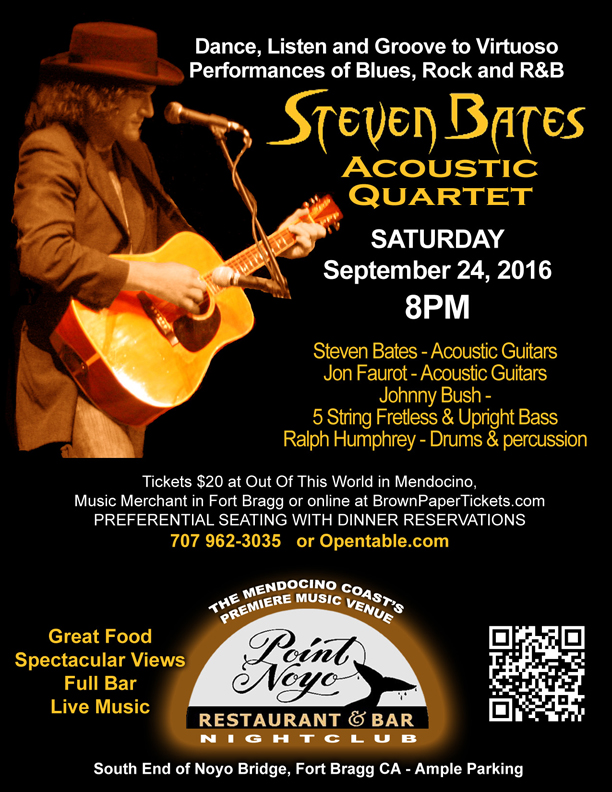 share: