Mendocino Stories and Music
Friday -
September
12,
2014
7:30pm
Hill House Inn
10701 Pallette Dr, Mendocino, CA
Steven Bates and Sheila Fetzer will be playing an acoustic show for the Mendocino Stories and Music Series at The Hill House Inn on 9-12-14 at 7:30pm.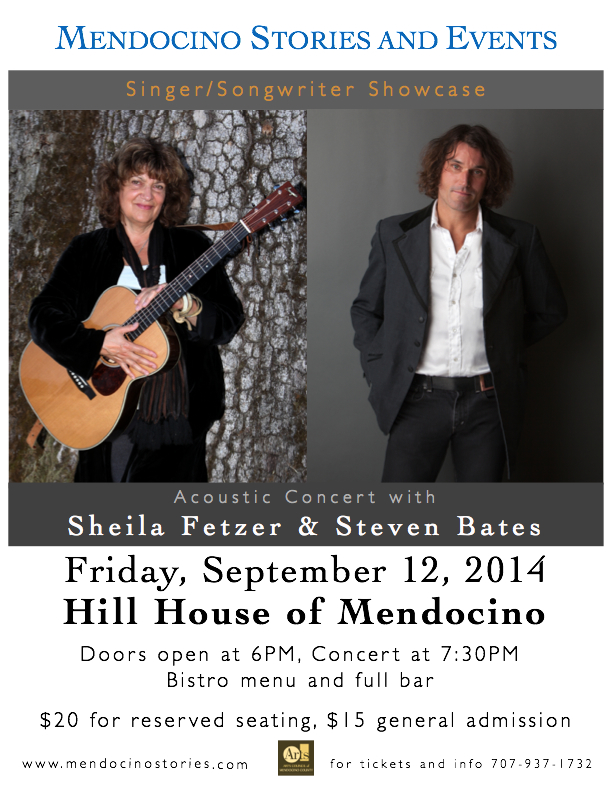 Mendocino Stories & Music Series presents a Singer/songwriter Showcase in an acoustic concert at the Hill House on Friday, September 12. Both featured artists are Mendocino County natives – Sheila Fetzer and Steven Bates. They will each perform a set and then join for a few tunes. Music starts at 7:30PM at the Hill House in Mendocino, 10701 Palette Dr.
Sheila Fetzer grew up playing music inspired and influenced by Joni Mitchell, Bonnie Raitt, Dylan and Neil Young. Says Sheila, "My words, songs, are just my reflecting response to life's experiences. May be subconsciously a need to get a little closer to that experience, and then, let it go." Sharing music to influence and connect people in a positive way is her focus. She will be joined by her nephew,  Luke Fetzer.
Steven Bates started playing music and school dances by the age of thirteen. After graduating, he set off to southern California and has played all over the area with different bands and individuals. Steven's determination to always leave audiences with something memorable is a good reason to catch this acoustic performance. When he plays acoustic he delivers a fast-paced strumming technique that has a rock and roll vibe unto itself. Visit http://stevenbatesmusic.com/
Doors open at 6:00 PM for bistro menu and full bar.
Reserved table seating $20, general admission $15 at the door.
Call Pattie at 937-1732 or www.mendocinostories.com/events.html
share: