Endless Summer of Love Party
Saturday -
September
09,
2017
8:00 - 11:30 pm
Masonic Center
428 N. Main St, Ft. Bragg, CA
Steven Bates Band featuring Steven Bates, Jon Faurot and Ralph Humphrey will be playing psychedelic tunes at the Endless Summer of Love party.
Plus special guest, Gene Parsons
Put on your happenin' hippy clothes, dust off your platform shoes and groove on over to the Masonic Center in Ft. Bragg. There'll be dancin', a silent auction, costume contest and more. And yeah, bring the family, this is an all ages event. Brought to you by Cinders Productions.
Doors: 7:00pm
Music: 8:00pm
$20 advanced tickets
$25 at the door
Advanced tickets: Harvest Market, Ft. Bragg, Icons, Mendocino, Dig! Music Ukiah, Four-Eyed Frog Books Gualala, Main Street Music & Video, Willits or online at https://squareup.com/store/cinders-productions
Spread the free love: A portion of the proceeds to to benefit Friends of Hospice.
For more info call 707-357-1889.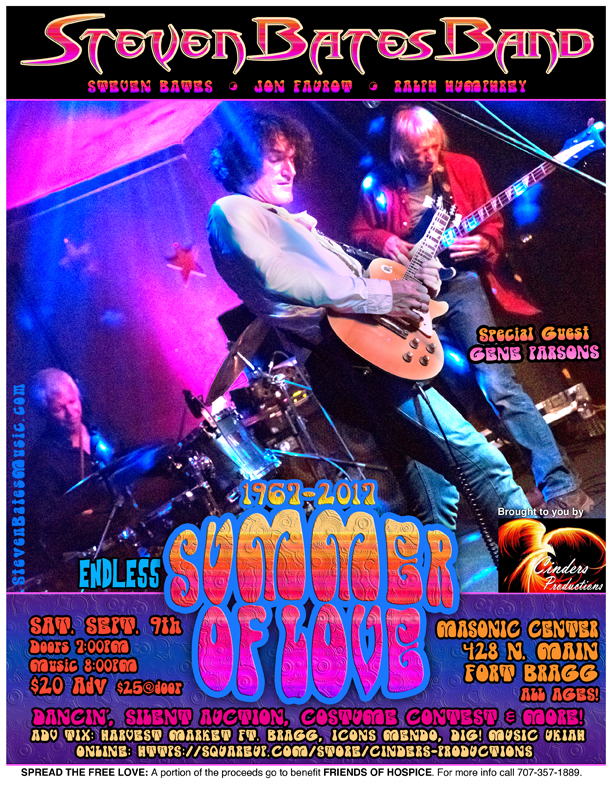 share: