We've been asked back to The Whisky already! We'll be heading south again to that hallowed hall, the musician's Mecca and all around rockin' nightclub: The Whisky A Go Go. That's right! How cool is that? We feel like Sally Field getting her second Oscar, saying "Wow. You really like me! You really, really like me!"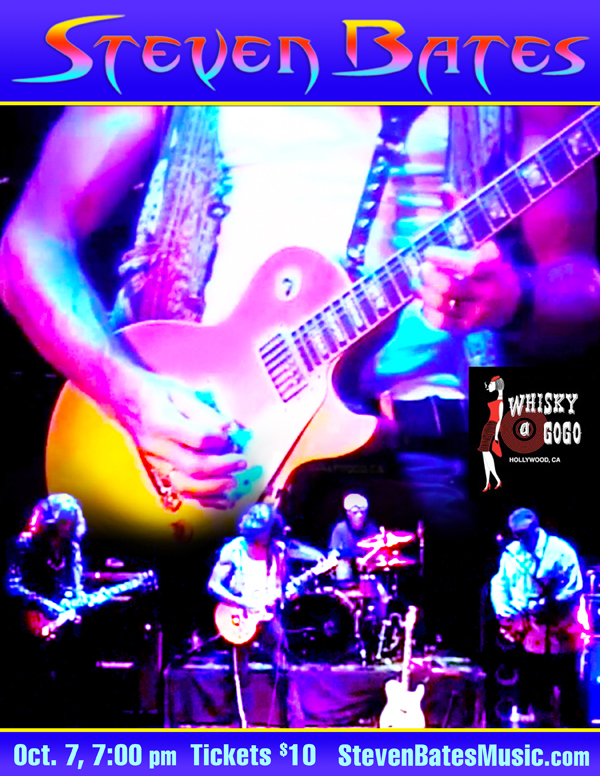 Steven Bates Band
Playing live at The Whisky A Go Go
8901 W. Sunset Blvd
West Hollywood, CA 90069
October 7, 2013 at 7:00pm
Tickets $10
We'll be opening for "
Hookers and Blow
" Dizzy Reed's new band. Name sound familiar? Reed is the "Guns N' Roses" keyboard player. The Whisky looks to be
the
happening spot on the Strip Monday, October 7th.
Since we're the opening act, going out on a school night is no excuse for not coming out to play. We start to jam at around 7:00pm. Everyone can have a great time, a couple of drinks and still be at work with no problem on Tuesday. Let's face it. Monday is usually the bummer day of the week. Why not make it a memorable Monday instead? Come hang out at The Whisky with us and dance those Monday blues away. You'll be glad you did.
So what are you waiting for? Click the link and get some tickets – they're only $10 bucks!
Get Tickets
Still need convincing? Check out the videos from our last Whisky show.